MRU Technology
Multi Re-Generation Unit
Key Features
Petrof MRU (Multi Re-Generation Unit)
Processing flow rates from 5,000 LPD to 50,000 LPD.
Petrof MRU cab is Add-on unit to any existing recycling plant without any Modification.
MRU is compatible to High Vacuum Distillation/ Thin Film Evaporator.
Improves oil color and removes oxidation products without impacting oil viscosity index.
Continuous operational mode (24/7) with the shortest cycle in the industry.
A variety of operating voltages available such 600V, 480V, 415V, 380V and 220V and frequencies (60/50HZ).
Modular system construction with multiple skids allowing for economical shipping and easy installation.
Different layout processing capabilities (parallel or series)
Specific system configuration in terms of a number of columns per bank and process layout to provide the highest return on investment.
SCADA interface providing semi-automated and fully-automated options.
Treatment of high Sulphur and acidity.
Full turnkey systems.
Comparison between Clay Bleaching & MRU Catalyst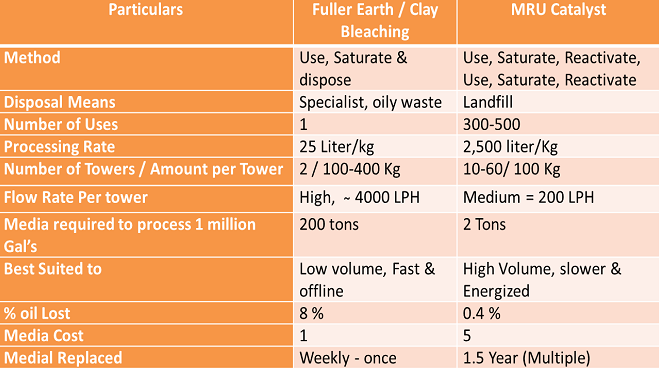 FLOW CHART FOR RE-GENERATION OF OIL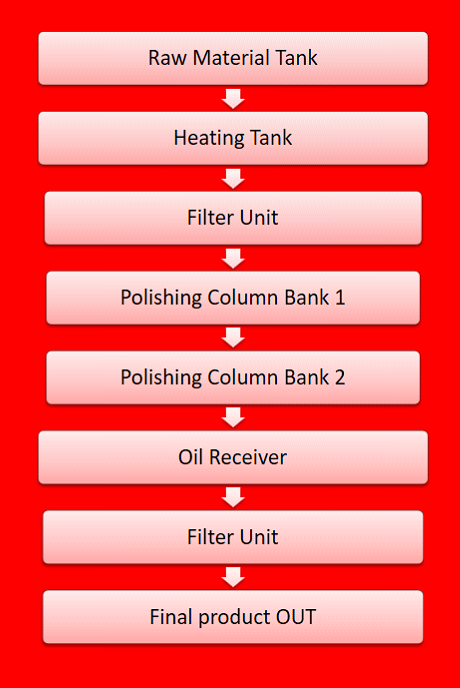 RE-GENERATION PROCESS FLOW DIAGRAM